Group trips require careful planning ahead of time, especially when it comes to transport. Have you decided how your group's members will arrive at your destination safely and on time?
Carpooling and rideshare apps like Uber divide group members among multiple cars. This makes keeping track of everyone and spending quality time together nearly impossible.
For peace of mind, hire a coach for your next group outing. You'll have plenty of room for everyone to ride comfortably, and you can stow all of your luggage securely beneath the bus. Check out our Complete Guide to Coach Hires below to learn the ins and outs of booking a bus!
What is a coach?
A coach, also called a motorcoach, is a vehicle that is privately rented by a group, organisation, or business. Instead of travelling along a set route like public buses, coach hires travel according to the group's personal itinerary.
What does a coach look like?
Motorcoaches have large tinted windows around the top half of the vehicle, allowing natural lighting to shine through. Passengers can gaze at the sights around them as they travel to their destination. On the body of the vehicle, bus companies often wrap the sides with their logo.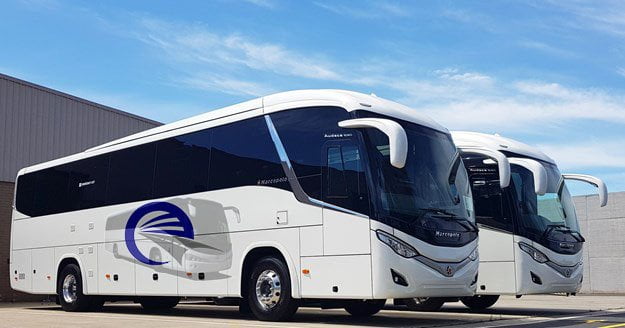 Inside, you'll see the driver's seat at the front on the bus and rows of plush seating for passengers throughout the coach. Most models have overhead compartments above the seats for storing personal items.
Who hires coaches?
Many businesses, organisations, sports teams, and other groups hire coaches to transport them to and from events. Groups who rent motorcoaches include:
Schools and universities. Students, teachers, and chaperones travel by bus for field trips to museums, historical centres, and art exhibits. College students and faculty members also book coaches for campus tours, seminars, extracurricular clubs, and sports tournaments.
Couples and wedding planners. Brides and grooms favour buses for shuttling guests and the wedding party to and from venues. Friends of the lucky couple hire coaches for engagement parties, hen dos, and stag dos.
Business professionals. Corporate travel planners prefer coaches to public transportation when attending company events. With on-board WiFi, they can check emails, revise presentations, and connect with clients on the go.
Churches. Congregation members use buses for service projects, domestic mission trips, fellowship activities, and conferences.
Weddings, Hens, Bucks, and cultural events
Sports teams. Athletes and coaches choose to travel by coach for out of town tournaments to keep their team together, on time, and motivated for the big match.
Entertainment companies. Event organisers rent minibuses as shuttles to transport music festival attendees to and from the venue.
How many seats does a coach hire have?
No matter the size of your group, there is a motorcoach to accommodate you. A standard bus holds around 56 passengers, but seating options often range from 36 to 60 seats.
If you're looking for a smaller vehicle, a minibuses and midibuses hold 35 passengers or less. They make excellent shuttles for weddings, festivals, corporate events, and more.
When you call our friendly staff at Group Transport Australia, they'll offer you a free, personalised price quotation on the perfect bus for your group.
What's the difference between coaches, minibuses, party buses, and entertainer coaches?
Standard coach hires, minibuses, party buses, and entertainer coaches are all rented by a group for private use and are operated by a professional driver. The differences between them lie in their sizes and uses.
Most groups reserve a standard coach hire or a minibus. A coach holds 36 passengers or more while minibuses carry 65 or fewer. Because standard coaches have more space, they come with more amenities like a toilet and extra luggage compartments.

Small groups who are travelling for celebrations like hen and stag dos or birthday parties favour party buses. Their seats are arranged around the sides of the bus so passengers can chat with friends, dance, and play games.
For touring musicians and celebrities, entertainer coaches hold 8 to 12 passengers on average and provide luxury amenities. Many include a master suit, sleeping bunks, a lounge area, kitchen facilities, a toilet, storage compartments, televisions, and WiFi.
Coach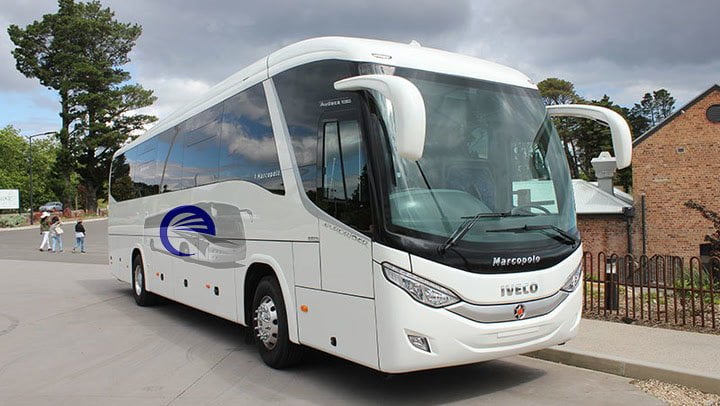 A full-sized coach is a 50+ seating vehicle the perfect choice for Tour and Corporate Groups, book this vehicle with a driver for your next event!
Book a Coach
Mini Bus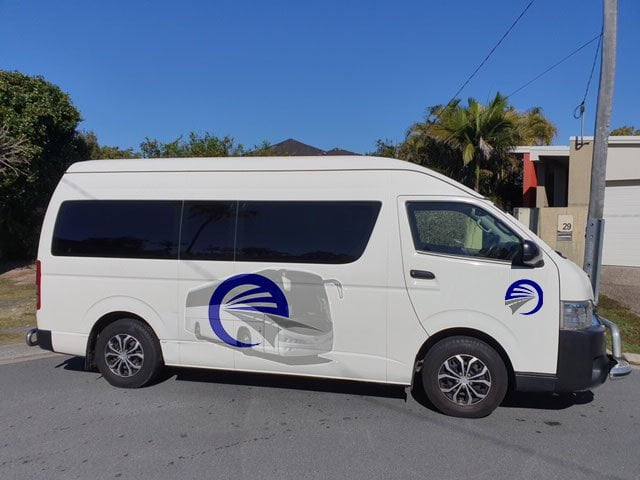 These are small vehicles usually seating up to 13 passengers with light hand carry.
Can be equipped with luggage trailer.
Perfect for airport and dinner transfers.
Book a Mini Bus
Midi Bus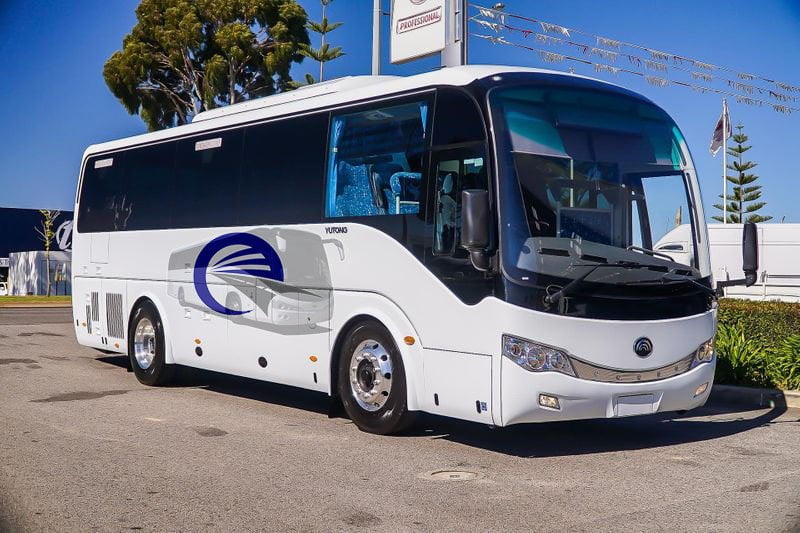 The medium-sized bus usually seating up to 28 – 40 passengers with light hand carry.
Can be equipped with luggage trailer.
Book a Midi Bus
What amenities are included in a coach hire?
Nearly all standard coach hires come with:
Reclining seats
Air conditioning
A toilet and washroom
TV monitors
A DVD player
Most modern buses also include the option to add wireless internet and power outlets to your rental. To ensure your bus has the exact amenities you need, let your reservation specialists know your group's requirements when you website for a quote.
Can we bring food and drinks on a coach hire?
You can bring outside food and drinks on most coach hires, but it's a good idea to verify with your bus company before your trip. Even if they do allow food and drinks on their buses, it's best to leave smelly and messy foods at home for the sake of your fellow travellers.
If your group leaves behind spills or crumbs, be sure to clean them up at the end of your rental. Your bus service provider may charge a cleaning fee if messes are left for their staff to clean. Most buses have bins at the front to collect your group's rubbish before exiting the coach.
Can we drink alcoholic beverages on the coach?
Adult passengers are permitted to bring alcoholic beverages on most coach hires, but your group may need to pay a security deposit to cover any damages that occur. Let your reservation specialist know that you are planning to bring drinks on the bus at the time of booking so they can make necessary accommodations.
To ensure everyone's safety, remind your group members who are planning to drink that reckless behaviour can distract the driver and create a hazardous situation.
Are pets allowed on buses and coaches?
Unfortunately, most bus companies have a strict no-pets policy. However, bus companies are required to allow disabled passengers to ride with assistance dogs according to Queensland Law.
What items are prohibited on a coach?
While each bus hire company may have differing policies, it's best to leave weapons, explosives, flammable materials, and dangerous chemicals at home. It is also prohibited to smoke on most buses, but you may smoke at rest stops in designated smoking areas along the way.
If you are unsure about bringing a specific item, ask your bus company at the time of booking.
Do coach hires have beds?
Though standard coaches don't include beds, they do have cushioned, reclining seats for your comfort. If you need to catch up on sleep during the ride, bringing a neck pillow will help you rest comfortably.
If beds are a requirement for your group, consider booking an entertainer coach which holds between 8 to 12 bunks and a master suite in the back. These large vehicles also include a lounge area, kitchen facilities, a toilet and washroom, satellite TVs, and WiFi.
Do coaches have storage space?
Unlike vehicles and also public transport, coaches have a substantial amount of storage space for big groups. Guests can put their personal items in the above areas over their seats to maintain the aisle free. Below the bus, there is room for each and every traveler to store a bag.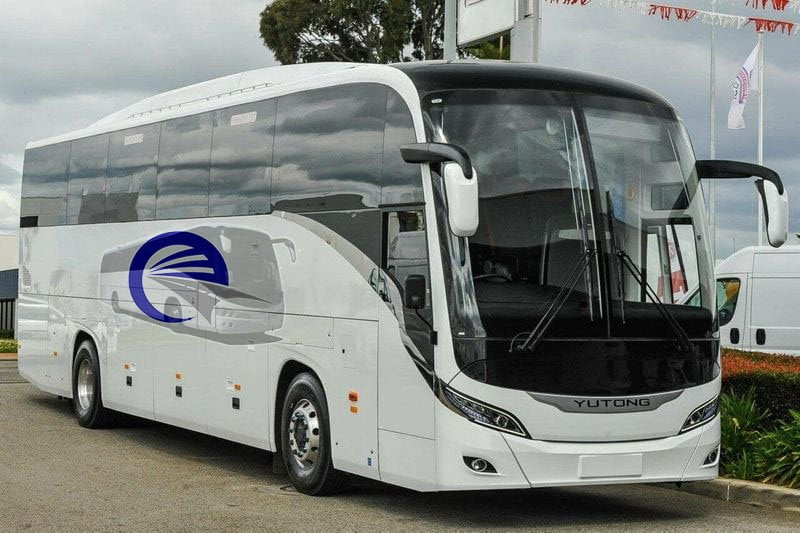 Because of their size, mini bus have less storage space and are better equipped for small groups. No matter what type of group you're booking for, our reservation specialists will find the best bus for your group's needs when you visit our website for a quote.
What are the toilets on a coach hire like?
A toilet on a basic motorcoach is small and also commonly consists of a toilet and also a handwashing basin. Due to limited area and also the motion of the bus, we recommend that travelers just use the on-board lavatory only if it is absolutely needed.
Do coach hires have seat belts?
Modern buses made after October 2001 are required to have seat belts. The driver is responsible for ensuring all children under 13 are properly secured in a seat belt or child restraint. Passengers over the age of 14 are responsible for belting themselves up.
At this time, the law only requires passengers above the age of 14 to wear seat belts, but it is highly recommended that all passengers wear seat belts when possible.
Are coach hires wheelchair accessible?
Sadly we do no have access to buses and coaches that have wheel chair lifts. If the passenger can manage to seat on the vehicle than we can store the wheel chair underneath for the duration of travel.
Who drives a motorcoach?
When you hire a coach, you'll receive a safe, professional driver to navigate your bus. Your driver will be in charge of your group's safety, so partner with a company whose drivers maintain an excellent reputation.
Keep in mind that Au regulations state that heavy vehicle drivers can only operate their vehicle for 10 hours in a day and must take a break every 4.5 hours. If your trip's schedule requires driving for more than 10 hours in a day, you'll be assigned a second driver to accompany your group.
For trips taking place overnight, you're responsible for booking your driver's hotel room. While their hotel room doesn't have to be elaborate, it does need to be safe and comfortable since your group's safety is in your driver's hands.
Will my driver make last-minute stops?
At the time of booking, your reservation specialist will ask you to submit your trip's itinerary. This includes every pickup and drop off location. If you decide upon last-minute stops you'd like to make after your trip has begun, you may ask your driver. However, if they decide to accommodate your request, you may be subject to paying additional fees.
How far in advance should I hire a coach?
For the best coach at the best possible rate, hire your coach at least 1 to 3 months in advance. For trips taking place in busy months like April, May, and June, consider booking at least 6 to 9 months in advance if possible.
We understand that last-minute trips come up all time, and in cities we service, Group Transport Australia can pair you with a coach in two hours or less. Contact Us Now for a free quote on your upcoming trip!
How much does a coach hire cost?
Rates for your bus rental will depend on several key factors including your trip's mileage and duration. Most companies charge by the mile for long distance trips and by the day for trips that span multiple days and require the driver to wait for long periods of time.
For a fast, personalised quote, Contatc Us. Our knowledgeable staff will help you book the perfect fleet of buses for your upcoming trip!
Do I have to tip my driver?
While tipping isn't required, it's an excellent way to show your gratitude for a job well done. We generally recommend tipping 10 to 20% of the cost of the rental. Gratuity is rarely included in the final bill, so you can ask your reservation specialist about tipping options before your trip.
How do I rent a coach?
Before contacting prospective bus companies for a quotation, make a note of the essential details of your trip. Keep this information on hand so your reservation specialist can quickly pair you with a bus that meets your needs.
Key information you'll need:
What are the names and addresses of your trip's destinations? At what times will you need to be picked up and dropped off?
How long will your trip last, and on what day will it begin?
How many passengers are in your group?
Will you be picking up additional passengers during your trip? If so, how many?
Do you need a wheelchair-accessible coach?
Which amenities does your group require?
Why Choose Group Transport Australia?
1. Conference Transport – Comfort and ease
Whether you would like us to pick up guests from hotels and drop them off a conference or social event – just provide us with the destinations below, and we'll get started.

2. Never have to worry about parking
Group Transport Australia's logistics team will secure parking and drop-off areas prior to your Conference or Corporate Event. Winery in remote areas Or even the CBD? Your guests never have to spend hours driving and finding parking before and after the Conference or Event. just tell us where you'd like to be, and we'll get the group there.

3. Smart and friendly local licensed drivers
We also give you ample time and routes for you to modify and make changes before your conference or event.

4. Personalised, customised and flexible booking
Unlike other companies, you will find that our booking process is extremely upfront, with no nasty surprises or hidden costs. Just ask all the other happy couples that we have served!

5. Arrive on time
Got a few stops between? We'll plan accordingly and ensure the group arrives at the right place, and on time. No more confusion surrounding the navigation process from rideshare services. Simply send us your itinerary before the conference or event.
Book a Coach
6. Transport Managers
Group Transport Australia has for hire transport managers who can help co-ordinate your conference or event, we even offer Airport Meet & Greet Services!
This guide is designed to help you make an informed decision on coach hires without missing important details. Now that you know what to expect, you can book your first bus rental with confidence.