Church Bus Charter and Hire
Church Group Transport Melbourne is the easy bus and coach solution for your next meet, event, function, or incentive. Group Transport Australia offers a range of vehicles from mini buses to full-sized coaches, providing group transport for every occasion.
Charter and Transfer services range from short transfers for small groups to large events for hundreds of passengers, with many vehicles. We provide a safe, reliable service for our wide range of customers at affordable prices.
Book Transport
Why book with Group Transport Australia?
Yes, we know there are hundreds of bus companies in Australia. Why choose us?
1. Low price guarantee
This is one of the main factors our clients keep coming back to us. We promise to try our best to price match or beat the existing quote you may have.
2. Fast quote turnaround
Nothing is more frustrating than waiting to hear back on a quote. We get you! We work hard around the clock and aim to accommodate your schedule, providing you with a written quote back within 3-4 working hours.
3. Quick and easy booking process
Once you receive our low-cost quote, it's time to get planning!
Our process is straightforward, fuss-free and you will love us for it. We'll work with you to come up with the best itinerary or simply get started with yours.
3. Arrive like a VIP and stress-free
Planning an event is hard, but the journey itself doesn't need to be!
With everyone on the same bus, door-to-door pickups, and drop-offs, keeping them on schedule is now easier than ever.
4. Knowledgeable to Melbourne, local drivers that know where they're going
Our drivers are friendly, licensed professionals with years of experience under their belt. They might even play your favorite song from high school if you ask nicely!
Whether you are looking for a bus for a gathering or post-wedding celebrations, trust us to bring you the best transport package in Australia.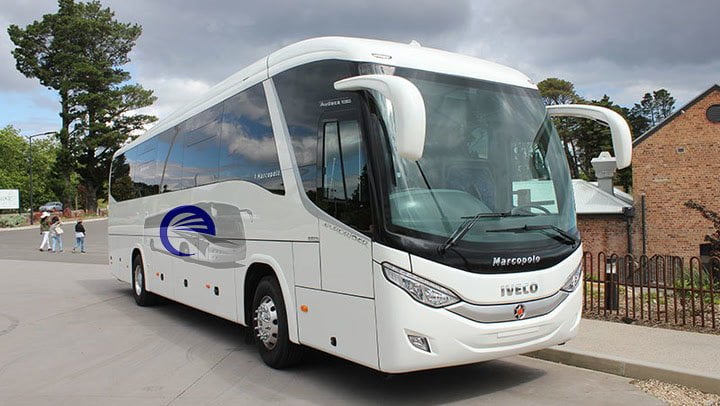 Church Bus Charter and Hire Melbourne Prices: How Much Does It Cost?
When considering hiring a party bus for your event, bear in mind that prices vary depending on the day of the week and the number of guests attending.
Typically, weekends, public holidays, wedding's and summer seasons are more pricey due to the greater demand. However, you could bag yourself some great deals if you book during weekdays or off-peak times.
The prices will change depending on the type of bus that you want to charter, the number of guests, as well as your travel terms, such as daily or hourly pricing.
Want to know exactly which bus you need and how much it will cost you? Contact our reservation experts for a quick consultation and free quote!
Other Transport Services Melbourne