Melbourne Bus Hire by Group Transport Australia, the leading provider of Mini Bus Hire, Bus Hire, and Coach Hire. All our vehicles are modern and come with a fully accredited experienced driver.
Looking for Bus Hire with a Driver? Contact our team for the best price and to book your bus today.

Already have a quote? Give us a chance, we can beat it!
Office:  03 7020 3341 (Melbourne)
The Fleet
Our unique fleet offers a wide choice of vehicles available to our clients. As the leading bus hire company in Melbourne have peace of mind knowing every vehicle is fully maintained and regular safety and comfort checks are held.
By booking with us you can relax knowing that safety is our number one priority.

Vehicles include:
8,12, 15 Seat Minibuses
24 Seater Buses
28 Seater Buses
36 Seater Buses
49 Seater Buses
57 Seater Buses
65 Seater Buses
Multiple Buses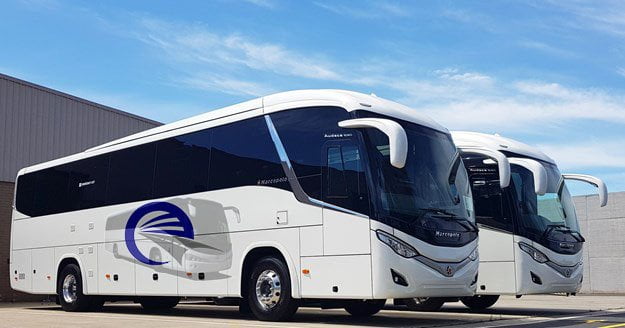 Melbourne Special Events Bus Hire
Melbourne is the entertainment capital of Australia and has an extensive list of events providing you with something to do all year round. Group Transport Australia offers Bus and Coach Hire for any special event.
If you have a large-scale event we can handle it!


Melbourne Airport Transfers
We provide a hassle-free airport transfer service, our drivers will meet domestic or international passengers in the arrivals area with a name board and will assist you towards to vehicle.
We service between Melbourne & Western Victoria and accommodation houses for group travel, full-day coach charter, Bus Hire with Driver, Coach Hire with Driver, and extender touring services.
Contact us now and we will come to your door, with a luggage trailer and transport you right out front of the main terminal entrance.

Melbourne School Bus Hire
Group Transport Australia, the leading provider in School Group Transport throughout Victoria and beyond.
All size groups big or small.
Our operations team makes planning easy, and at the best price. Our team knows the planning that goes into a trip and has solutions to all school transport needs.


Camps, Island Camps, Excursions and Sport: Cluster Days, Away Games, local games, servicing Melbourne and Beyond.

Melbourne Party Bus Hire
Yes, we know there are many bus hire companies in Melbourne. Why choose us? 

1. Low price guarantee
This is one of the main factors our clients keep coming back to us. We promise to try our best to price match or beat the existing quote you may have.
2. Fast quote turnaround
Nothing is more frustrating than waiting to hear back on a quote. We get you! We work hard around the clock and aim to accommodate your schedule, providing you with a written quote back within 3-4 working hours.
3. Quick and easy booking process
Once you receive our low-cost quote, it's time to get planning!
Our process is straightforward, fuss-free and you will love us for it. We'll work with you to come up with the best itinerary or simply get started with yours.
4. Arrive like a VIP and stress-free
Planning an event is hard, but the journey itself doesn't need to be!
With everyone on the same bus, door-to-door pickups and drop-offs, keeping them on schedule is now easier than ever.
Rest assured that your guests will get in the party mood, hop from one place to the next while keeping the entertainment groovy even as you're on the road!
5. Knowledgeable, local drivers that know where they're going
Our drivers are friendly, licensed professionals with years of experience under their belt. They might even play your favourite song from high school, if you ask nicely!
Whether you are looking for a party bus for your birthday parties, or post-wedding celebrations, trust us to bring you the best transport package in Australia.

Bus Hire With Driver
Are you looking for bus hire with a driver in Melbourne? Then look no further, Group Transport Australia has it covered.
We are the premier choice for all your group transport in the region and provides the most experience and service that can be offered in Melbourne.

Melbourne Mini Bus Hire
Melbourne Mini Bus Hire by GTA offers a wide range of Mini Buses to hire in Melbourne, all with your own personal driver!

Shuttle Bus Hire Melbourne
Need to book a shuttle bus for your next event? Contact us today for a quick consultation to find the correct vehicle and service to suit your needs.
Our team at Group Transport Australia has a wealth of industry knowledge running shuttle bus services in Melbourne.

Our Drivers
Drivers are our primary representatives of the company, so not only are they smartly attired and polite, they have great knowledge of Melbourne and the surrounding areas. They satisfy all the relevant qualifications and are highly experienced.