Chartering a bus in 2021 is more simple than ever, with new online platforms like Group Transport Australias Quote Form finding the best price for your bus and coach services is only a few clicks away.
With a variety of ways to use bus services like transfers, day charters, multi-day booking, and shuttle, now more than ever you can find the perfect vehicle for your transport needs. In 2021 Group Transport Australia offers modern vehicles that are clean, comfortable, efficient, and safe. They provide an excellent solution for any group transportation requirements as Group Transport Australia is the leading transportation company nationwide.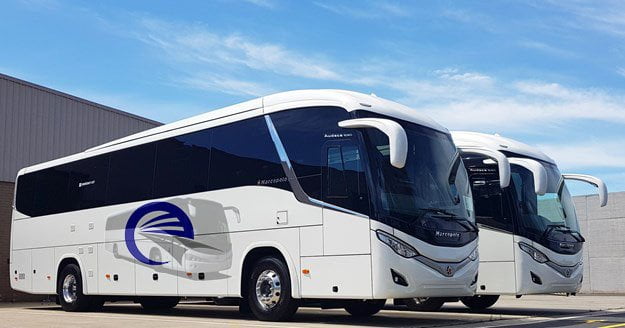 Why Should I Choose Bus Charters?
The reasons for selecting a charter coach or hiring a bus for your next group event are many. But firstly these modern vehicles are reliable, comfortable, and fit for purpose. Relax knowing a vehicle and driver will arrive on time and safely transport you and the group to your destination.
Below are just some of the features that make choosing bus charters the smartest move you can make.
Quick and easy booking process
Planning for a trip is no easy feat, and we want you to breeze through the transport booking part! Unlike other companies, our booking process is easy and straightforward, and you will love us for it.
Simply provide us with your travel details below, and we'll get started.
Charter a Coach
Modern and Comfortable
Chartering a bus provides guests with a comfortable mode of transport. The seats are relaxing and most of them recline. There is ample leg room, and there is normally a bathroom so there is no need to stop at service stations.
Most modern buses now have comfortable seats, TV's and really good air-conditioning.
Complete Safety
Traveling by bus or coach is the safest way to travel on Australia's roads. Modern coaches and buses are now fitted with all the latest safety equipment including newly designed seating configurations.
And the people behind the wheel are professional drivers that have been fully trained in how to drive on all roads and different weather conditions. It is their priority to get all their passengers home safely after enjoying their excursion.
Bus Convenience
A charter bus gives you point-to-point transportation which is convenient and easy. Buses can wait on-site at a destination ready for any quick changes to itineraries. Unlike planes and trains that have embarkation hubs, a bus will transport you to the exact location you need.
Of course this saves on further travel from the airport or station with the added burden of carrying your luggage. There are also no check-in procedures or security checks to undertake.
Book a Coach
Mini Bus Charters
These are small vehicles usually seating up to 13 passengers with light hand carry.
Can be equipped with luggage trailer.
Perfect for airport and dinner transfers.
Book a Mini Bus
Midi Bus Charters
The medium-sized bus usually seating up to 28 – 40 passengers with light hand carry.
Can be equipped with luggage trailer.
Book a Midi Bus
Coach Charters
A full-sized coach is a 50+ seating vehicle the perfect choice for Corporate Groups, book this vehicle with a driver for your next event!
Book a Coach
The Benefits of Bus and Coach Charter with Driver
Travelling by coach or bus as a passenger you can enjoy luxury travel and entertainment at the same time. The facilities onboard are exceptional and you will have plenty of time to gaze out of the large windows and admire the countryside passing by.
Safe Travelling – boarding a charter bus you can forget all about the hassles of driving. You don't have to follow a sat-nav or try to read maps. All the normal issues of driving are taken care for you. That is the responsibility of the driver.
Relaxation – when you travel by bus or coach all that you do is to sit back and enjoy the ride. You can chat to your friends, listen to music, or watch a film. So when you finally arrive at your destination you are fully relaxed and looking forward to your day ahead.
Space – as well as a great deal of extra legroom that you get in a private car or taxi, there is also plenty of space for luggage.
Affordable – not only is a bus safe and reliable it is also highly affordable. It is often the cheapest form of transport that a group travelling together can possibly get.
The next time you are considering a group transport and we will do the utmost to make your trip a great success.